We now have a new catalog pictured above. If you would like to order the above catalog in hard copy, just send me $5.00 United States Dollars(USD) in money order, bank check or cash only. I do not accept personal checks, charge cards or debit cards. Also you can order free of charge a pdf of Trichem catalog and 6 supplement pdf by sending me an email at trichem14616@yahoo.com requesting these pdf. Since I am not always on the internet every day it may be a couple of days before I send you the pdf.
Have you used Tri-Chem in the past? Did you enjoy painting the Tri-Chem? Are you looking for a way to make money from home? Then become a Tri-Chem Instructor! You can thus earn money at the same time enjoy painting and sharing with Tri-Chem. I am starting up a new group of tri-chem instructors both here in Rochester, New York and over the internet anywhere in the U.S. For more information please email me at: trichem14616@yahoo.com
Also if you have been a previous instructor of Tri-Chem even in 1940's, 1950's, 1960's, etc. and you would like to be re-instated as an instructor again, please contact me by email at: trichem14616@yahoo.com The Tri-Chem company still has all the instructors's numbers from the past.
Artistic Essential Tri-Chem Liquid Embroidery can be painted on a variety of surfaces: mirrors, suede, leather, dishes, glass, floor coverings, wood etc. with your personal touch and ideas. The paints can also be used to cover up stains or just to give a new look to favorite items.
I have used the paints to cover the missing silver on a mirror, a scorch mark from ironing on a dress, to put a border on a window frame inside the house etc.
Tri-chem fabric painting is a great for children too.
The new paints are now water soluable thus I clean up everything with water. They are no longer oil based paints which required a solvent to clean up. If you still have Tri-Chem paints from several years ago, they may still be useable by taking off the old tip and stirring the paint inside, pushing the paint to the top of the tube as you are replacing the tip. Tri-Chem tips are still the same design.
I just love being artistic and creating new things. Below are some of the items I have created with Tri-chem.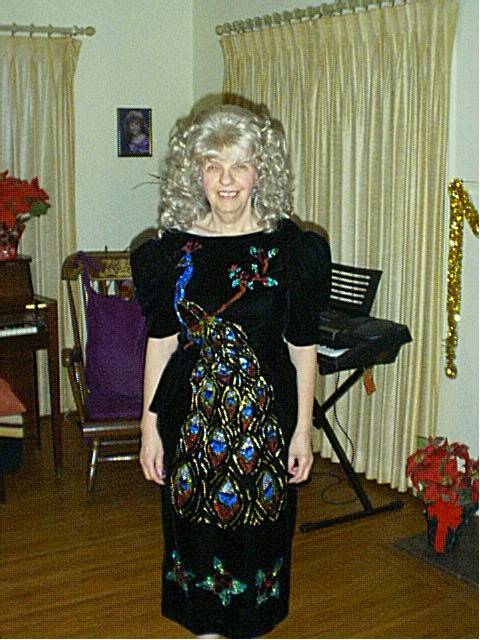 I copied this peacock from a tri-chem black velvet picture which I had painted in the 1980's. The peacock painting is the next picture after this dress picture.I used tri-chem spark-l-on paints on a black velvet vintage dress using Spark-l-on paints. I still have both the dress and the picture.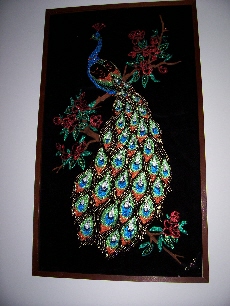 This was a tri-chem pre-painted picture ready to be painted. I used tri-chem spark-l-on paints. I painted this picture approximately 1979. I still have the painting hanging in my house.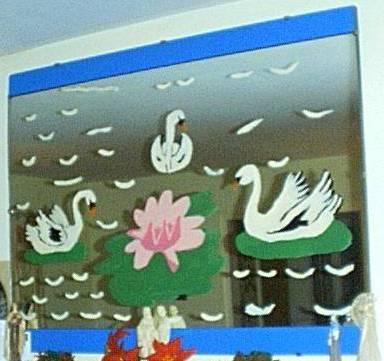 This was a very old vintage mirror lacking much silver backing which someone was discarding. It is 48" wide and 36" high. I painted the mirror using Tri-chem paints where the silver backing was missing in 1977. Notice how I also put blue paint on the diamond cut mirror pieces on the top and bottom of the mirror. This was my own design. At the time I painted this, I had blue fur furniture the same shade of blue. I hung this mirror over my fireplace and it is still today a conversational piece.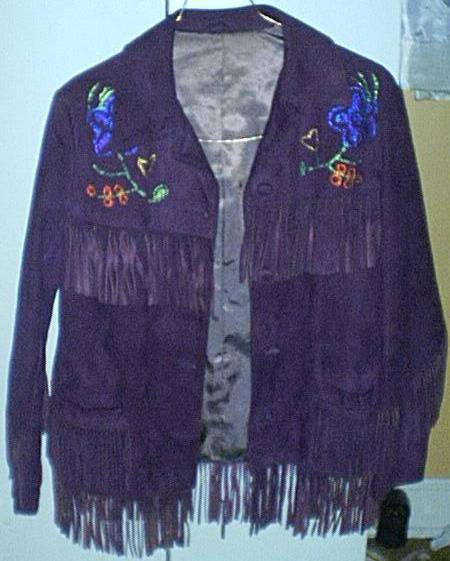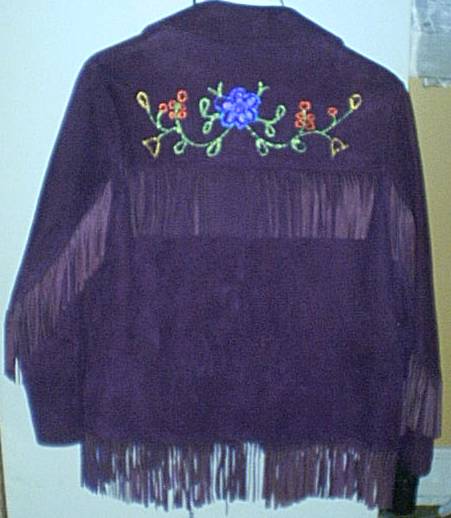 The above 2 pictures are of a purple suede western jacket which I painted in the 1980's with Tri-chem spark-l-on paints. The designs was my own ideas.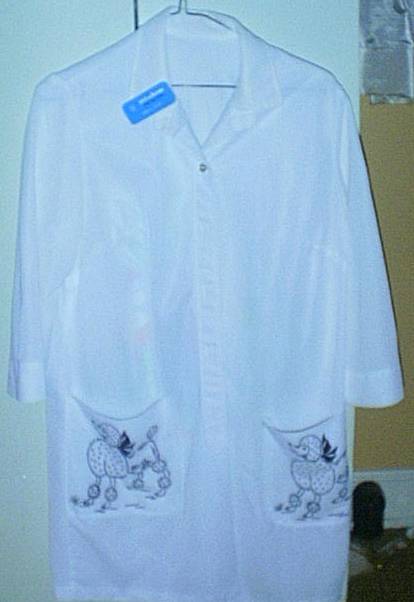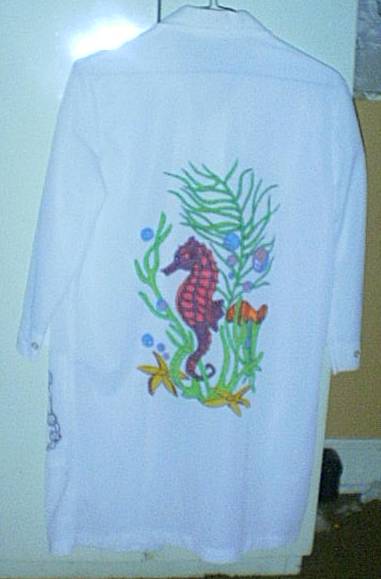 I made my tri-chem instructor smock from tri-chem's iron-on transfers. I used tri-chem paints for the paints. This smock is both machine washable and machine dryable. I have washed many many times since I painted the smock in the 1980's.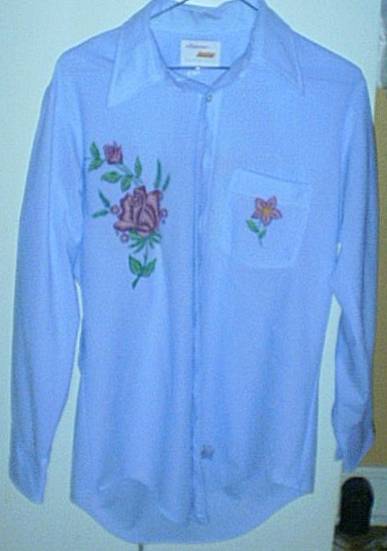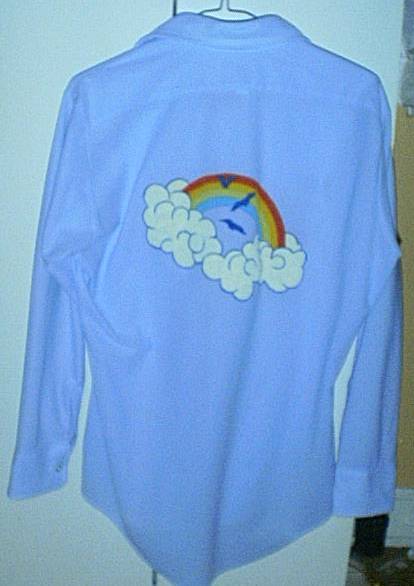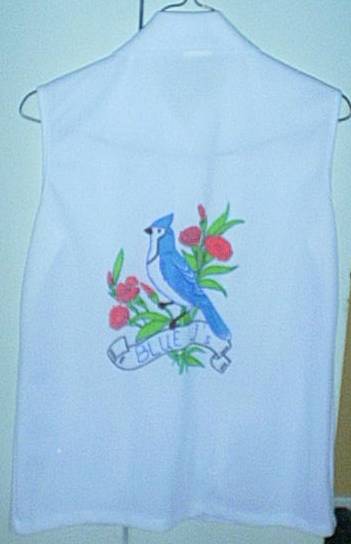 The above blouses were painted with tri-chem iron-on transfers and tri-chem paints in the 1980's They have been machine washed and machine dried many many times.


In the 1980's I accidentally scorched this floor-length orange dress while ironing it. I had scorched it near the bottom of the dress. Because I liked the dress so well, I decided to put a iron-on transfer on the dress and use tri-chem spark-l-on paints on it to outline the roses and their leaves. It saved the dress from being discarded and it was also one of a kind concerning the painting.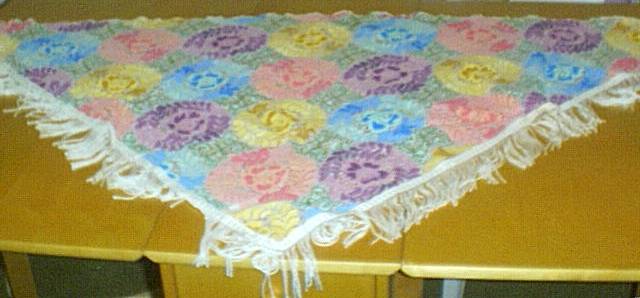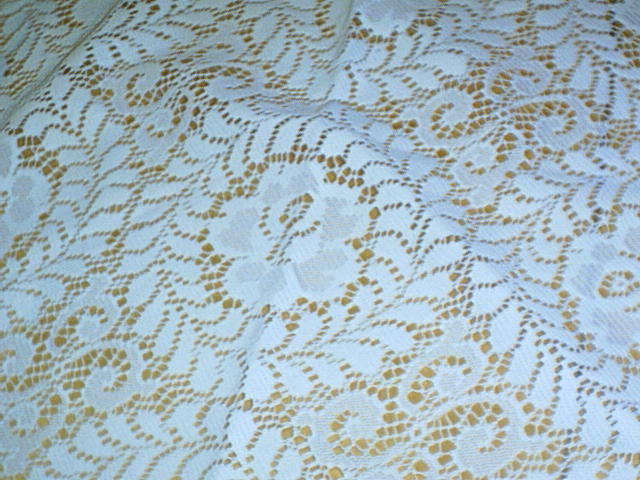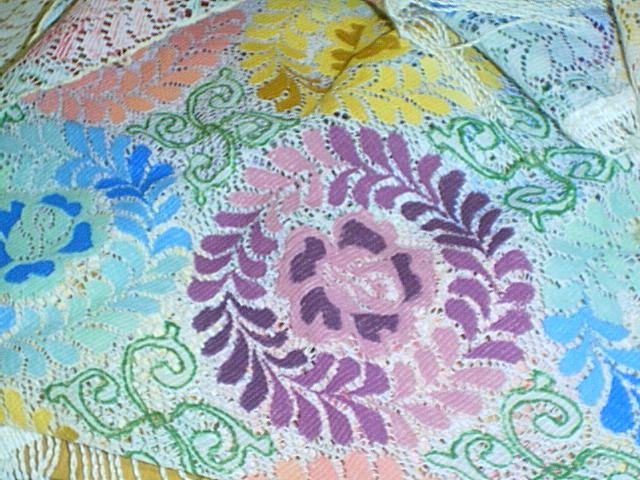 Are you aware that you can used tri-chem paints on lace. The white picture is a 3-cornered shawl which I painted in many colors. I painted this in the 1990's.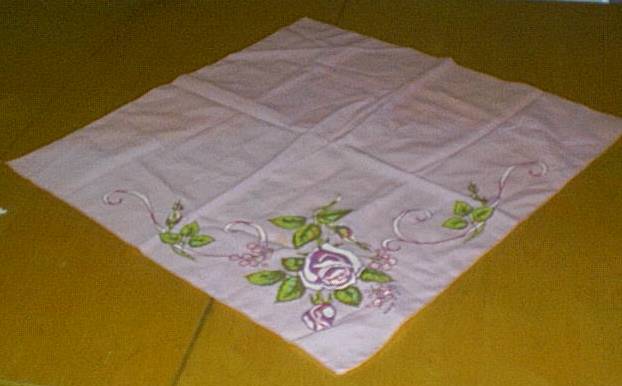 This is a tri-chem pre-printed scarf that I painted with tri-chem paints in the 1980's.You can paint any scarf using tri-chem paints and transfers.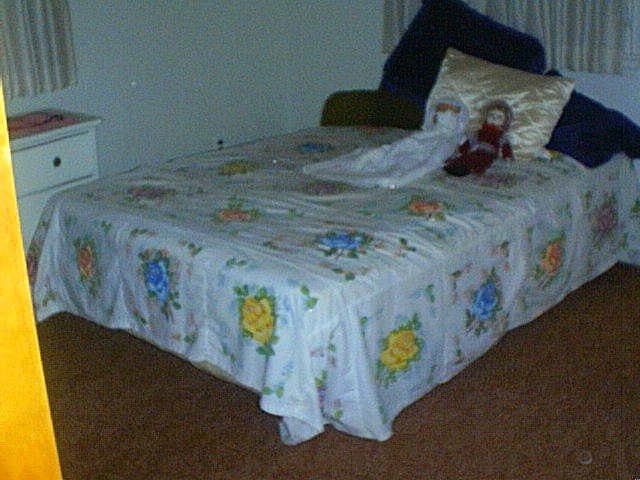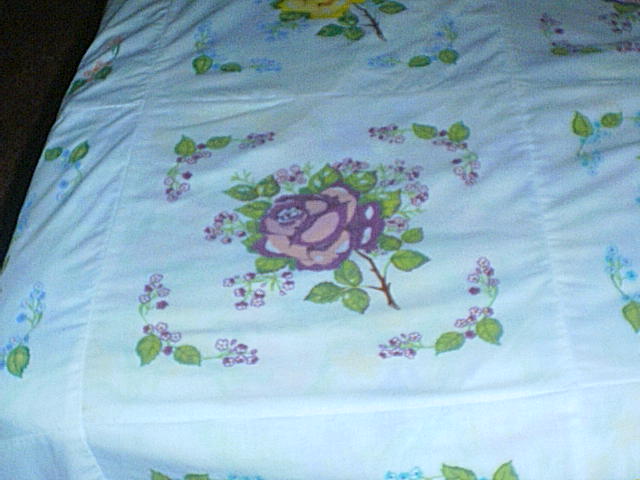 This is a quilt that I made from pre-printed tri-chem quilt blocks and painted using tri-chem paints. This too is machine washable and hand dryable.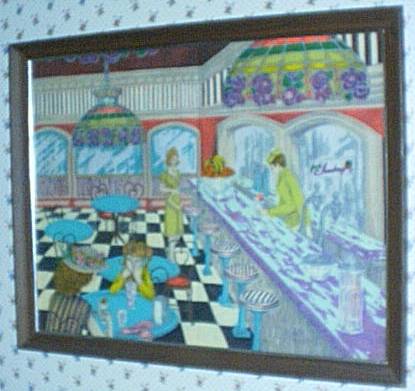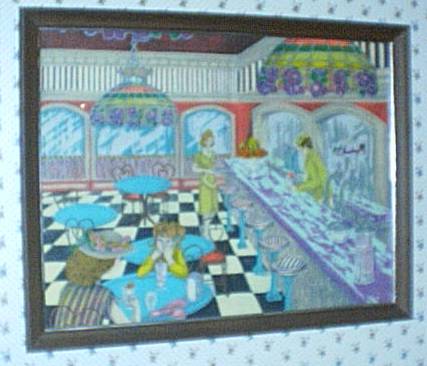 The above 2 pictures are the same Tri-Chem pre-printed picture on pellon that I painted in the 1980's and then framed. It is a picture of a ice-cream parlor that were very popular in prior years.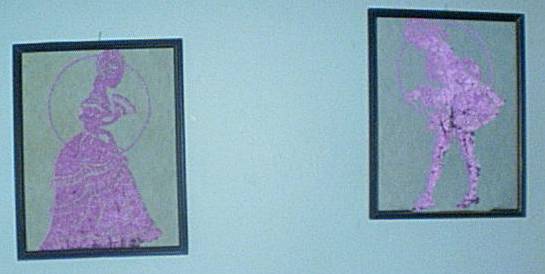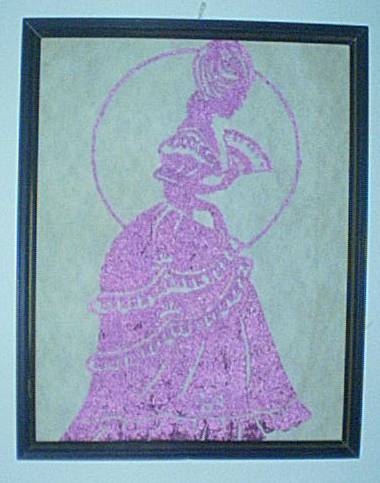 The purple old-fashioned could was a pre-printed tri-chem picture. I used tri-chem purple paint and twinkle beads on these pictures. Then I framed them in the 1980's. I hung these pictures over the head of my bed.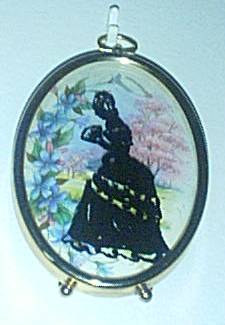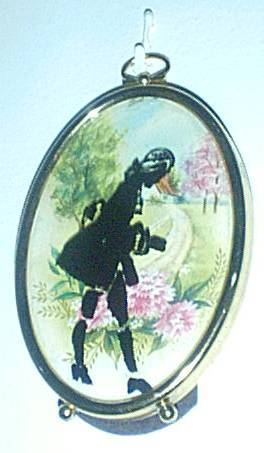 These 2 little pictures were pained with tri-chem black paint using reverse glass painting techniques inside the small gold picture frames. I then cut out 2 recycled used birthday cards for the backround. I learned this type of painting in 1980's.
The beautiful painted vest and the beautiful painted white blouse below were recently given to me by Marty of California, a region leader with Tri-Chem many years ago. I am so blessed that she sent these two items to me to post on my web site to display other different Tri-Chem painting techniques. And the shading on the white blouse is so perfect and professional looking. The blouse and the vest are just so beautiful.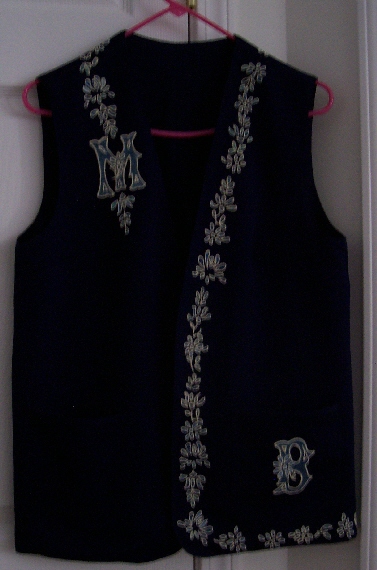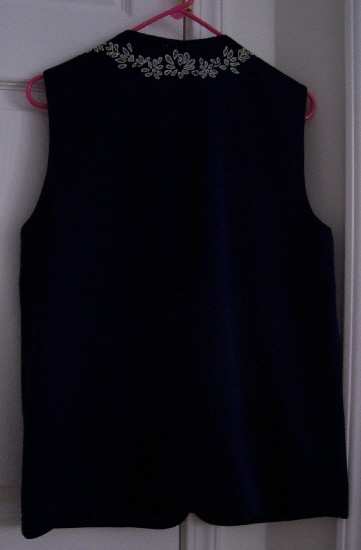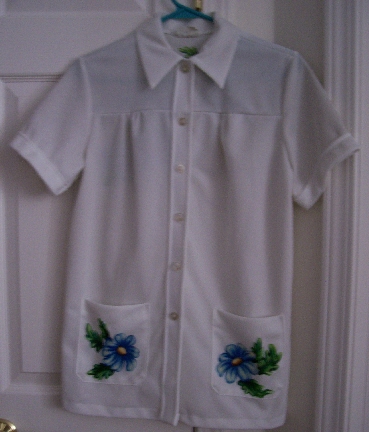 If you would like to learn how these techniques using Tri-Chem paints, please feel free to contact me.
Again, if you would like to order tri-chem's catalog or would like more information, please contact me. Also if you have any questions about Tri-Chem's new paints or any of the older Tri-Chem oil-based paints, please contact me either my mail, telephone, or email. Don't forget that if you order from TriChem directly, please put my name (Carol Platt) in the space for your instructor's name.
If you are looking for extra income, Tri-Chem's unique marketing plan offers you unlimited possibilities to earn money, develop the potential for success in yourself and others, and add an exciting new dimension of fun, accomplishment and self-satisfaction to your life.
When you join Tri-Chem, you set your own goals. You're the boss! Full time or part time, it's up to you AND you'll earn s you learn!
Getting Started is Easy!
You'll have the opportunity to earn an exciting income so talk to me NOW or call me at 1-585-621-7350.
If you would like to place a Tri-Chem Embroidery Order, you may copy and paste the below blank order blank into your Word Processor and print it out to be filled in with your purchases. Then send the completed order blank and Bank Check, Money Order, Cashier's Check, to me at: 3896 Dewey Avenue, #234, Rochester, N.Y. 14616 (U.S.A.. I'm sorry, I do not accept personal checks, or any charge cards at this time. All orders will take approximately six (6) weeks for delivery. Thank you.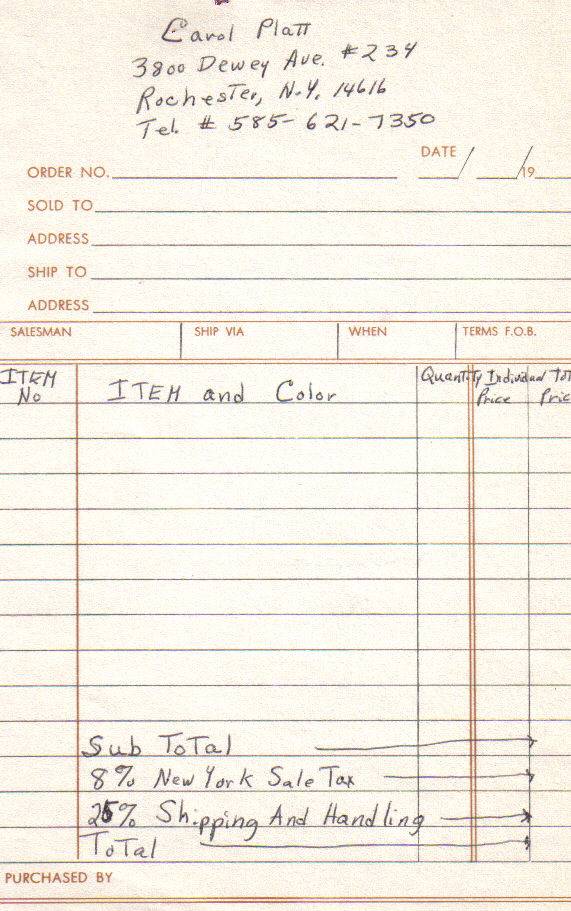 Please feel free to come back again! I will be adding more ideas and information in the future. Also don't forget to visit the links at the bottom of this page. Thank you.
Carol Platt

3896 Dewey Avenue #234

Rochester, New York 14616 U.S.A.

Telephone No. 585-621-7350

email: trichem14616@yahoo.com
I have been a Tri-Chem Liquid Embroidery - new name Artistic Essentials Tri-Chem instructor since 1972. Over the years I have receiving telephone calls and emails requesting the name and telephone number of an instructor near where they live so that they may order Tri-Chem products or become an instructor. Many times these perspective clients would like to find an instructor near or in their area so that they could order products and attend classes. Usually I am not able to help them because I do not know any instructors in their areas.
As a result I would like to post a list of instructors' names, addresses and telephone numbers for free on this web site.
If you are an instructor and would like to list your name, address and phone number at the bottom of this web-site for free, please email me, write to me or call me. Remember there is no charge for this service. It is a free service.
Thank you,
Carol Platt
email: trichem14616@yahoo.com
Tel. No. 585-621-7350
3896 Dewey Avenue #234
Rochester, N.Y. 14616
*********************************************************************************
LIST OF INSTRUCTORS:
Carol Platt, Rochester, New York, U.S.A., Tel. No 585-621-7350
*******************************************************************************
Copyright 2009, 2010, 2011, 2013, 2014, 2015 Carol R. Platt
My Favorite things about Artistic Essentials Tri-Chem:
Easy
Fast
Fun
Can Be a Fun Home Based Business for yourself.
You can share this activity with children also.
No experience needed to use these products.
The home based business can be done anywhere in the U.S.A.
The crafts and business can be done by both men and women.
Training and help with these products is always available by me, Carol R. Platt, a Tri-Chem Instructor
Other Services and Products
Carol Platt's Internet Mall Home Page
Books Written by Carol Platt
Hand-Made Crafted Items and Gifts.
Carol R. Platt's Book Store
Wealth Bible
Tri-Chem Liquid Embroidery Fabric Paint
Gifts, crafts, antiques and flea market-garage sale items.
Affiliates Needed Immediately!
Travel Discounts
Carol's Corner
Carol Platt Pinterest